Workshop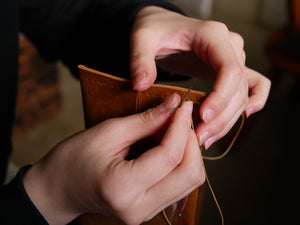 Get great information from around the world while you're at home SNS that can be caught is very convenient. But at the same time, why are you tired?
Psychologist Adler says: "Our happiness comes from subjectivity."
Subjectivity is primary information. It means that you make the experience and contribution yourself. SNS is secondary information that has been filtered by someone. No matter how much time I spend, I don't change myself It causes frustration and dissatisfaction, and makes you tired. We believe that the experience, which is the primary information, is important.
At the workshop, even people who meet for the first time with the same goal Cooperate, encourage, and concentrate next to each other You will get a sense of accomplishment to complete one item. I feel that the happiness that Adler calls is born.
We will hold a workshop this year as well. We will also introduce technologies that are not listed in the book, so even those who have experience in leather crafting will be introduced. Please join us. Even if you are an inexperienced person, each task is simple, so we will do it in order. It will be completed in time. The unusual experience of making things uses different parts of the head and fingertips, so Feelings are refreshed.
Our workshop is like that as a daily spice I'm glad if you use it.
Journal
Notes about our recent work and events